Betsy Ross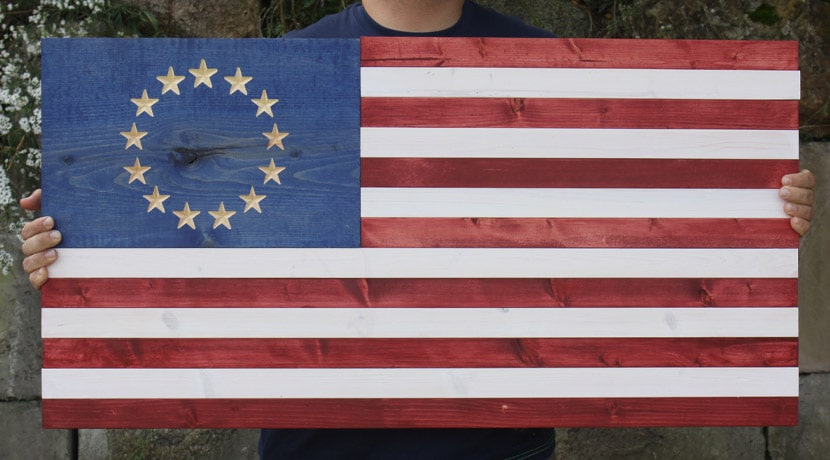 PRODUCT FINISHES - We have two finishes to choose from, epoxy and polyurethane. Epoxy is a high-gloss finish that is thicker, harder, and more durable. Polyurethane is a satin matte finish that provides a more natural wood look.
EACH FLAG IS UNIQUE - All flags are individually handcrafted and may vary in appearance. Each flag is its own piece of artwork, so the flag you receive may not be an exact replica of what is pictured on our site.
DIMENSIONS - Each flag measures 38" x 19.5".
CUSTOMIZED - If you would like to customize your flag, a range of options, such as a photo or personalized lettering, are available.
QUESTIONS - Please contact us if you have any questions or for more information about our products.
About Our Betsy Ross Flag
The Betsy Ross flag: It was the first to lead the United States into battle during the American Revolution and it remains the ultimate symbol of patriotism. A flag so important that June 14th, the day the Betsy Ross flag was officially adopted by the Second Continental Congress in 1777, is a national holiday. Our handcrafted Betsy Ross Wood Flag commemorates this banner's proud legacy with an attractive, colorful style that will liven up any décor. Beautifully stained and carved from pine, each flag is rendered in full color with the original 13 stars in the classic circle pattern.
This one-of-a-kind 1776 wood flag is an iconic celebration of American freedom that is cut, stained, and assembled in our family's workshop in Holly, Michigan and is available in your choice of finish. As this is a handcrafted work of art, no two flags will be identical. Please allow up to two weeks for your rustic wood flag to completed. If you need your flag sooner, let us know.
Betsy Ross sewed. We build. Click here to see how our wooden flags get made.
Want to see the 50-star version? Take a peak at our bestselling Traditional American Flag Wood Art.
Our Promise
Quality
Each flag is carefully handmade. We take pride in the quality of our work, using premium woods, stains and finishes.
Affordable
We price our flags so that patriotic Americans can display one of our pieces at a reasonable cost.
Durable
Our flags are built to last so they can be hung indoors or outdoors. Outdoor flags should be protected from rain and prolonged direct sunlight.