School Spirit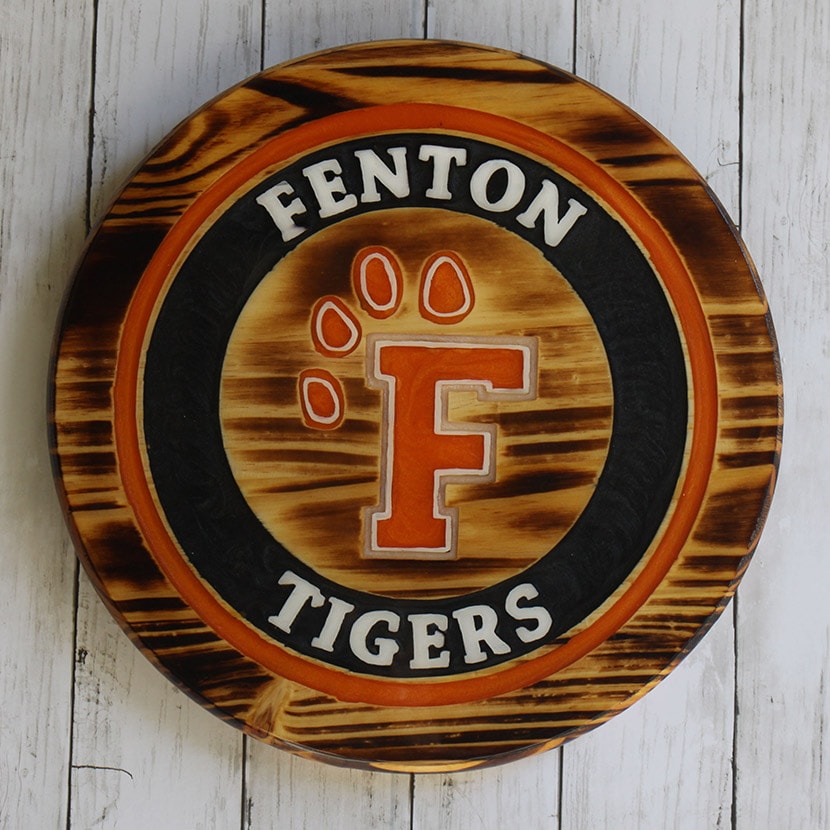 PRODUCT FINISH - This sign is finished with an epoxy resin coating, which is a high-gloss, hard, and durable finish.
EACH SIGN IS UNIQUE - All signs are individually handcrafted and may vary in appearance. Each sign starts as a block of wood that is milled on a CNC machine to the specifications you choose. We then fill in the sign with colored epoxy. Each piece is finished with a clear epoxy flood coat. The result is a singular work of art for your home.
DIMENSIONS - Available in a variety of sizes and shapes. Choose from 12", 15", or 24" round or square wood signs. We also offer an 11" x 16" rectangular version.
CUSTOMIZED - If you would like to create a custom sign for a particular school or student, personalized options are available. Contact us for additional information.
QUESTIONS - Please contact us if you have any questions or for more information about our products.
About Our School Spirit Sign
Support your home team with these School Spirit Custom Wood Signs. We're based in Oakland County, Michigan, so we've started with the Fenton Tigers, but if you're local to the area we are adding Clarkston, Grand Blanc, Holly, and Linden signs. We can also do any school from outside the area with some additional input from you -- please contact us for details.
Each of these wood carved signs is designed on a CNC machine for precision, but all other elements are handcrafted at our family's workshop. We apply a colorful resin to each piece and carefully burn the wood for a nice rustic touch. Each sign is then finished with high-gloss epoxy and is perfect for mounting anywhere that could use a little school spirit.
If you would like us to do a personalized design for your school or student, we typically charge a $25 fee for a custom sign. We will provide you with a final proof of your design for approval before we make your sign. Because our engraved wood signs are labor intensive, we ask that you allow up to two weeks for us to complete yours. If you need your sign sooner, please let us know.
Want to see our process? Check out this time-lapse video of one of our wooden flags being made.
Be sure to check out our full collection of wooden American flags, signs, and more.
Our Promise
Quality
Each flag is carefully handmade. We take pride in the quality of our work, using premium woods, stains and finishes.
Affordable
We price our flags so that patriotic Americans can display one of our pieces at a reasonable cost.
Durable
Our flags are built to last so they can be hung indoors or outdoors. Outdoor flags should be protected from rain and prolonged direct sunlight.