Thin Blue Line Punisher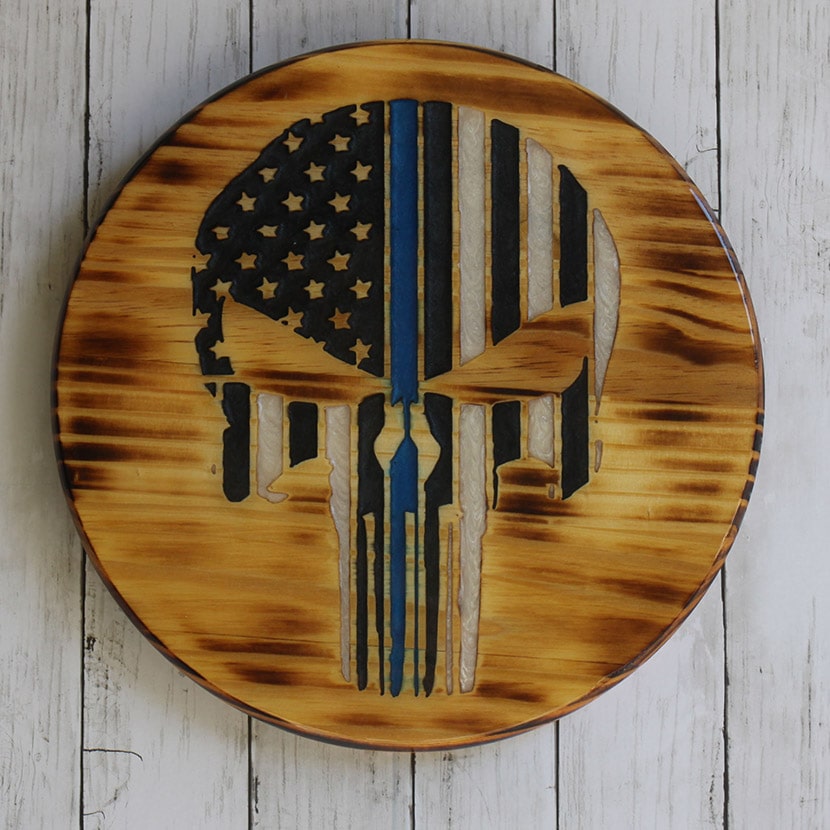 PRODUCT FINISH - This sign is finished with an epoxy resin coating, which is a high-gloss, hard, and durable finish.
EACH SIGN IS UNIQUE - All signs are individually handcrafted and may vary in appearance. Each sign starts as a block of wood that is milled on a CNC machine to the specifications you choose. We then fill in the sign with colored epoxy. Each piece is finished with a clear epoxy flood coat. The result is a singular work of art for your home.
DIMENSIONS - Available in a variety of sizes and shapes. Choose from 12", 15", or 24" round or square wood signs. We also offer an 11" x 16" rectangular version.
CUSTOMIZED - If you would like to customize your sign, a range of options, such as a photo or personalized lettering, are available.
QUESTIONS - Please contact us if you have any questions or for more information about our products.
About Our Thin Blue Line Punisher Sign
For many in law enforcement, the Punisher skull is the ultimate symbol of honor, endurance, and brotherhood in the face of danger and evil. This Thin Blue Line Punisher Sign combines the intensity of the Punisher skull with the powerful legacy of the Thin Blue Line flag to forge a hardcore emblem that pays tribute to the sacrifices first responders make every day to protect our communities. Handcrafted from locally sourced materials, each Punisher sign is colored and lightly burned to add a ferocious flourish to the design. Make no mistake: You can't escape justice.
Our Punisher signs, like all our products, are made at our family-run woodshop in Holly, Michigan. We can craft your sign in a range of sizes or make modifications and customized adjustments upon request. We treat each piece like a work of art, because it is, so please give us about two weeks to finish yours. And if you need it sooner, please tell us, and we'll work with you to expedite your order. Keep in mind that these are natural wood products and that no two pieces will be exactly alike.
Get in on the action. Click here to see what we do when we color our flags and signs.
We have more tributes to the men and women of law enforcement! Check out our Thin Blue Line Flag.
Our Promise
Quality
Each flag is carefully handmade. We take pride in the quality of our work, using premium woods, stains and finishes.
Affordable
We price our flags so that patriotic Americans can display one of our pieces at a reasonable cost.
Durable
Our flags are built to last so they can be hung indoors or outdoors. Outdoor flags should be protected from rain and prolonged direct sunlight.