Full Resin American Flag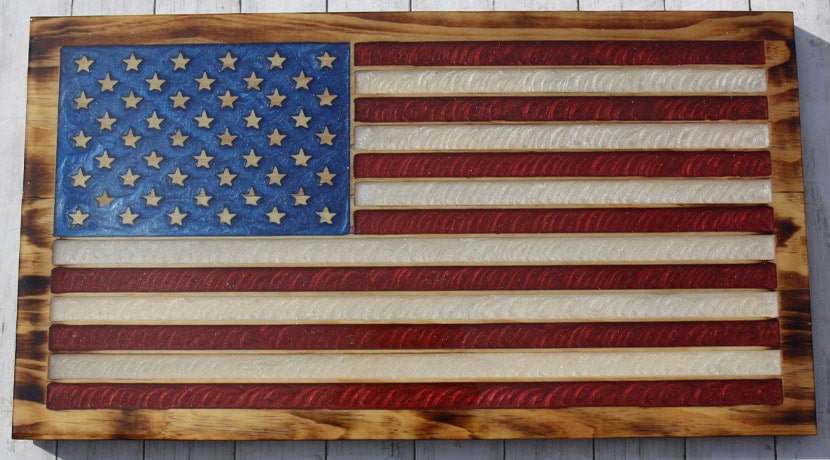 PRODUCT FINISH - This flag is finished with an epoxy resin coating, which is a high-gloss, hard, and durable finish.
EACH FLAG IS UNIQUE - All flags are individually handcrafted and may vary in appearance. Each flag starts as a block of wood that is milled on a CNC machine to the specifications you choose. We then fill in the flag with colored epoxy. Each piece is finished with a clear epoxy flood coat. The result is a singular work of art for your home.
DIMENSIONS - Choose from a 15" x 8" flag or a 30" x 15.75" flag.
CUSTOMIZED - If you would like to customize your flag, a range of options, such as a photo or personalized lettering, are available.
QUESTIONS - Please contact us if you have any questions or for more information about our products.
About Our Full Resin American Flag Flag
This Full Resin American Flag Wood Sign is a colorful favorite that does things a bit differently. For this one, we cut the flag into a wooden base and leave a natural wood border to serve as a frame. After cutting the flag, we prepare the wood by smoothing out any rough areas and removing any trace of debris. When the wood is ready, we carefully fill in each color by hand and allow the resin to set before drying it with a hand torch (click here to see more of the process).
We produce each part of this American Flag Wood Sign ourselves from our family-run workshop in Holly, Michigan. Our signs are built to your custom specifications and no two will be identical -- your wood-stained American flag will be a singular piece of art. Due to the amount of labor involved in creating our American flags made of wood, we ask that you allow up to two weeks for yours to be completed. If you're on a deadline, please let us know and we will work with you.
Learn more about the process behind what we do.
If you like the look of this flag, then you should check out our other Patriotic US Flag Wall Art.
Our Promise
Quality
Each flag is carefully handmade. We take pride in the quality of our work, using premium woods, stains and finishes.
Affordable
We price our flags so that patriotic Americans can display one of our pieces at a reasonable cost.
Durable
Our flags are built to last so they can be hung indoors or outdoors. Outdoor flags should be protected from rain and prolonged direct sunlight.